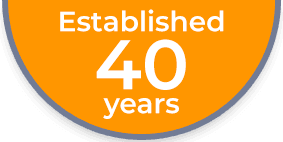 Pexhurst Bermondsey
The Brief
Requirement: Diamond Drilling and Diamond Sawing
An opening 8m x 3m was required through a Brickwork Wall up to 700 mm thick on the ground floor of a 6 storey building leaving clean edges ready to receive new open plan windows. The building also needed to be used at the same time.
Project Begins
Diacutt received the instruction to support the building whilst the opening was formed. This was carried out following the design and sequence provided by the Structural Engineer.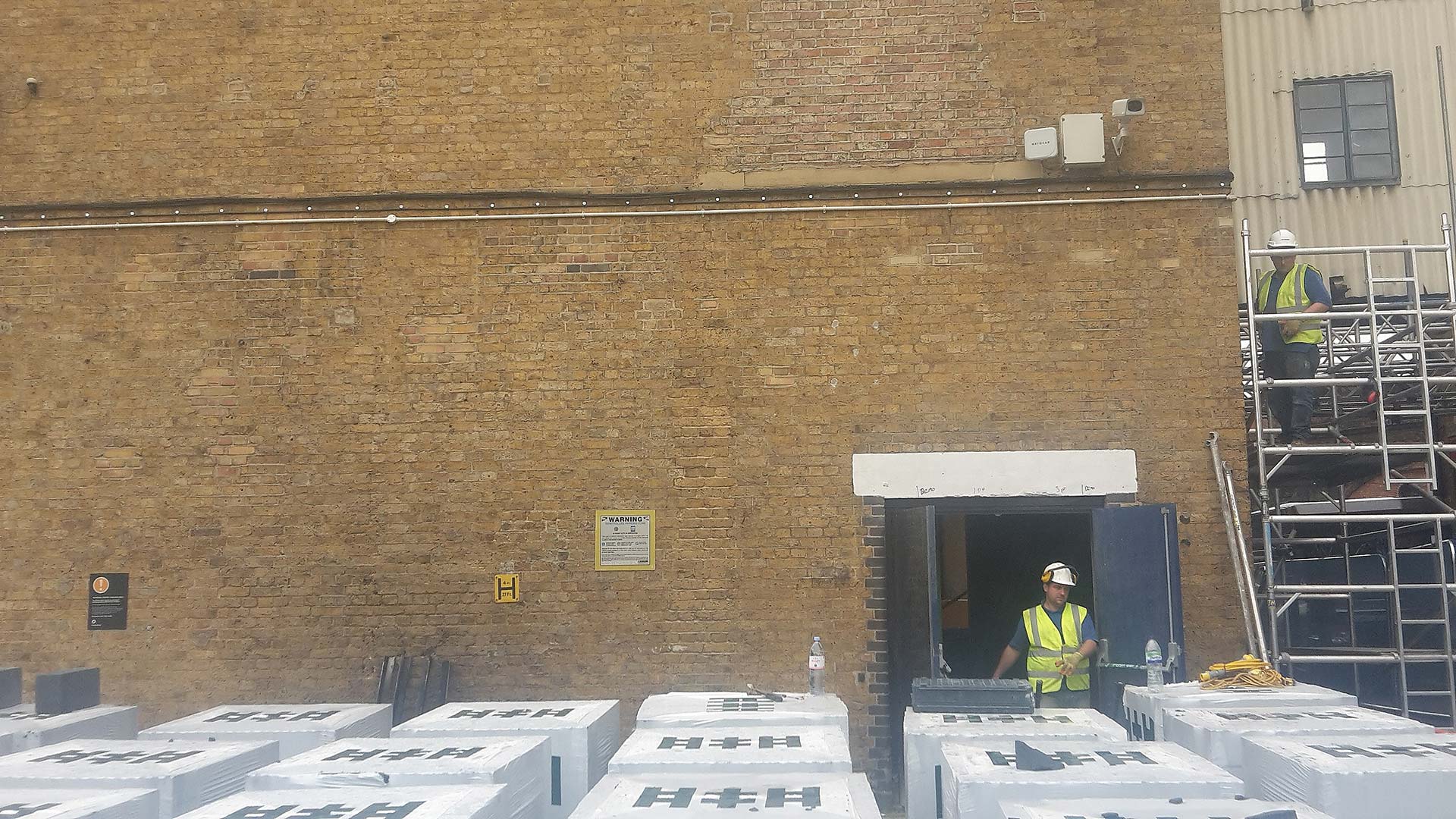 The building prior to commencement of work
Supporting the building
The method required the concrete beams that were bearing on the wall internally to also be supported on Mabey Castellated props as shown on the site photos.
The full building façade also needed to be supported as the opening was being formed.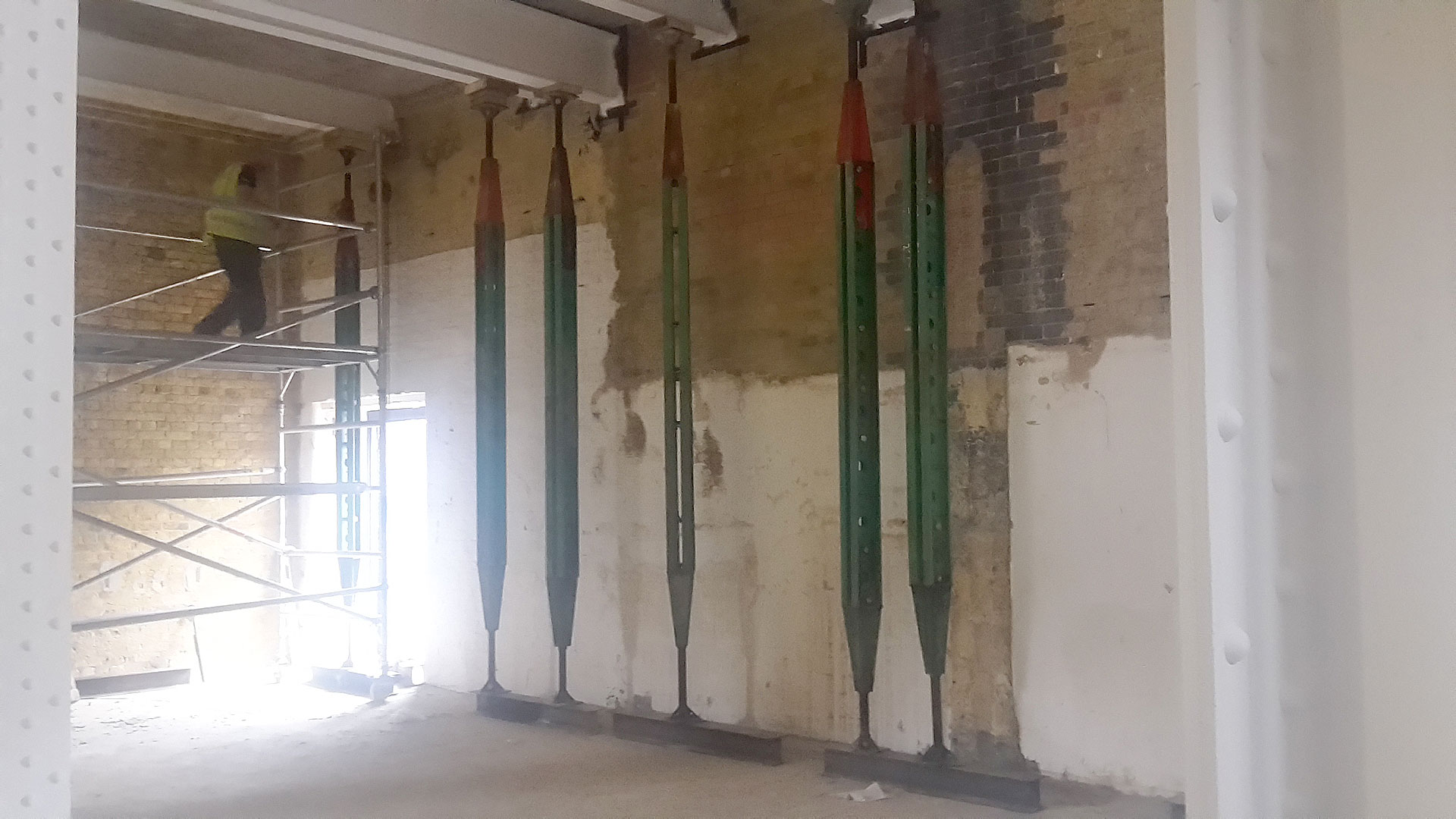 Props to the internal beams
Wall Sawing
Vertical 400 mm wide slots were formed in the wall by Hydraulic Wall Sawing to avoid vibration and ensure the integrity of the wall in each stage. A vertical cut was made initially plus a horizontal cut with very careful control of the length of horizontal cut to avoid exceeding the capability of span of the brickwork above.
The centre of each section was then removed using Diamond Drilling and Hydraulic Bursting to reduce the noise levels created when using percussive tools. This prepared the openings ready for props to be inserted.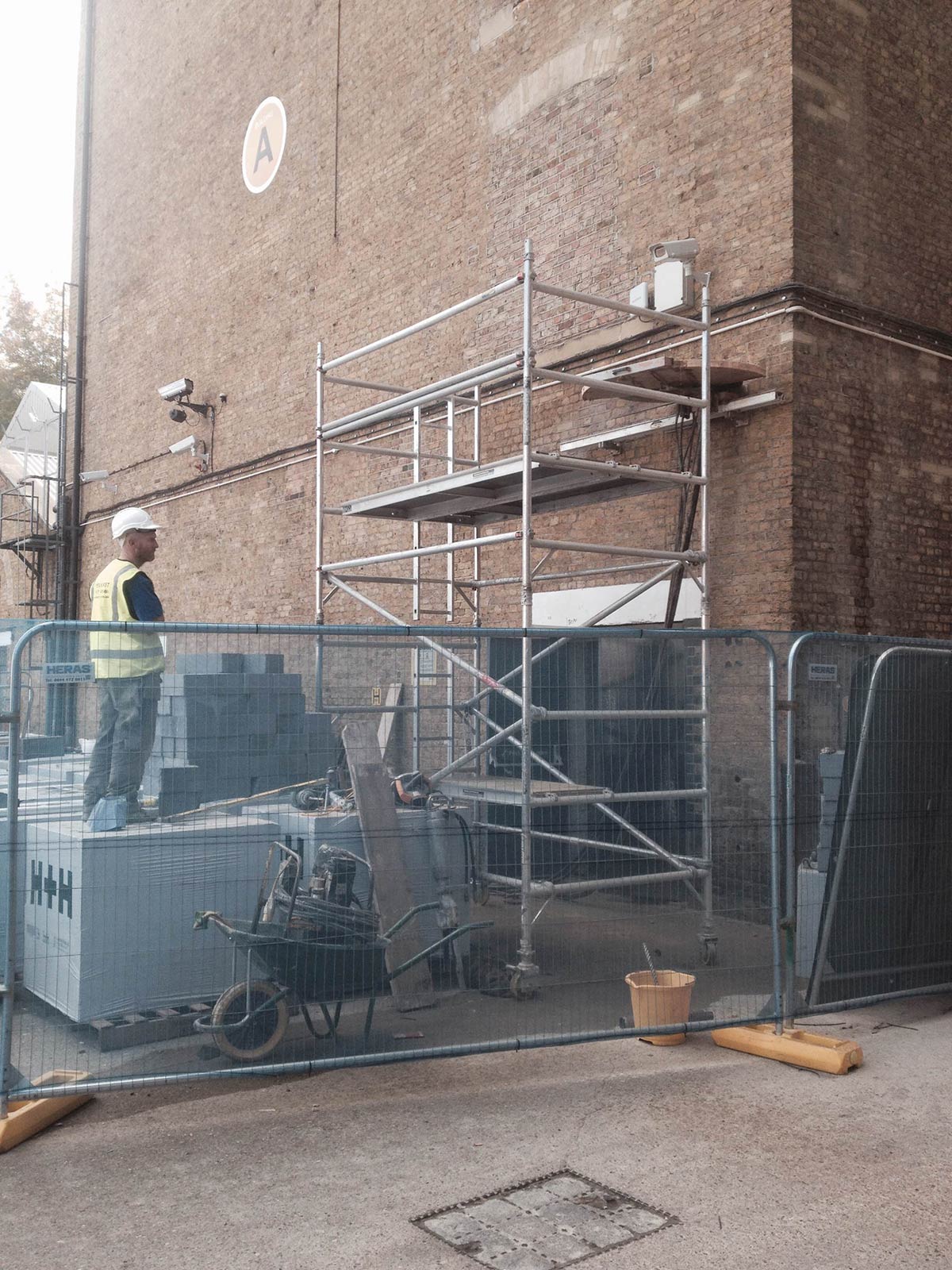 The track mounted Wall saw mounted on the wall.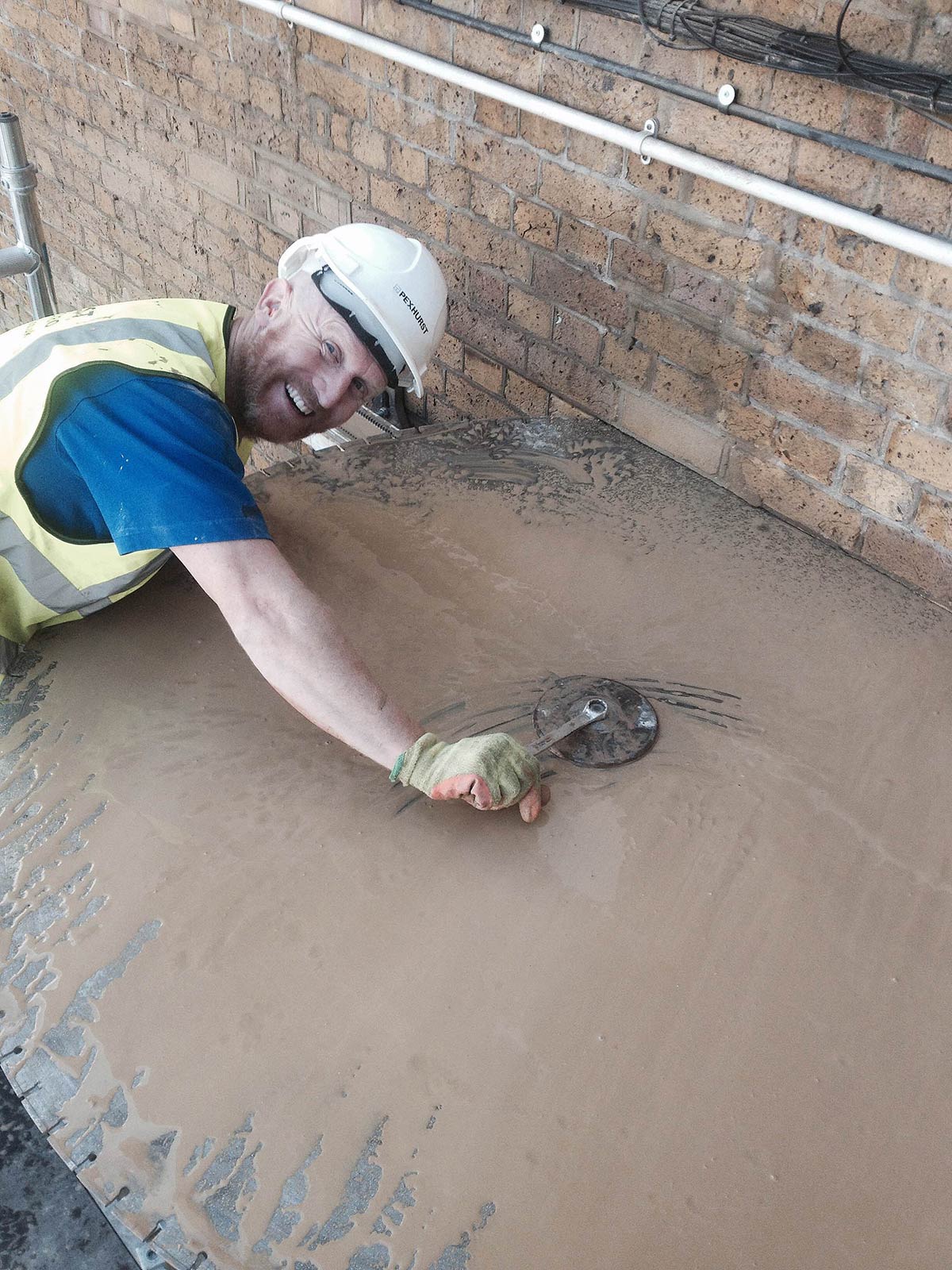 The largest Diamond Blade being fitted in the cut ready for saw cutting the horizontal line to full depth.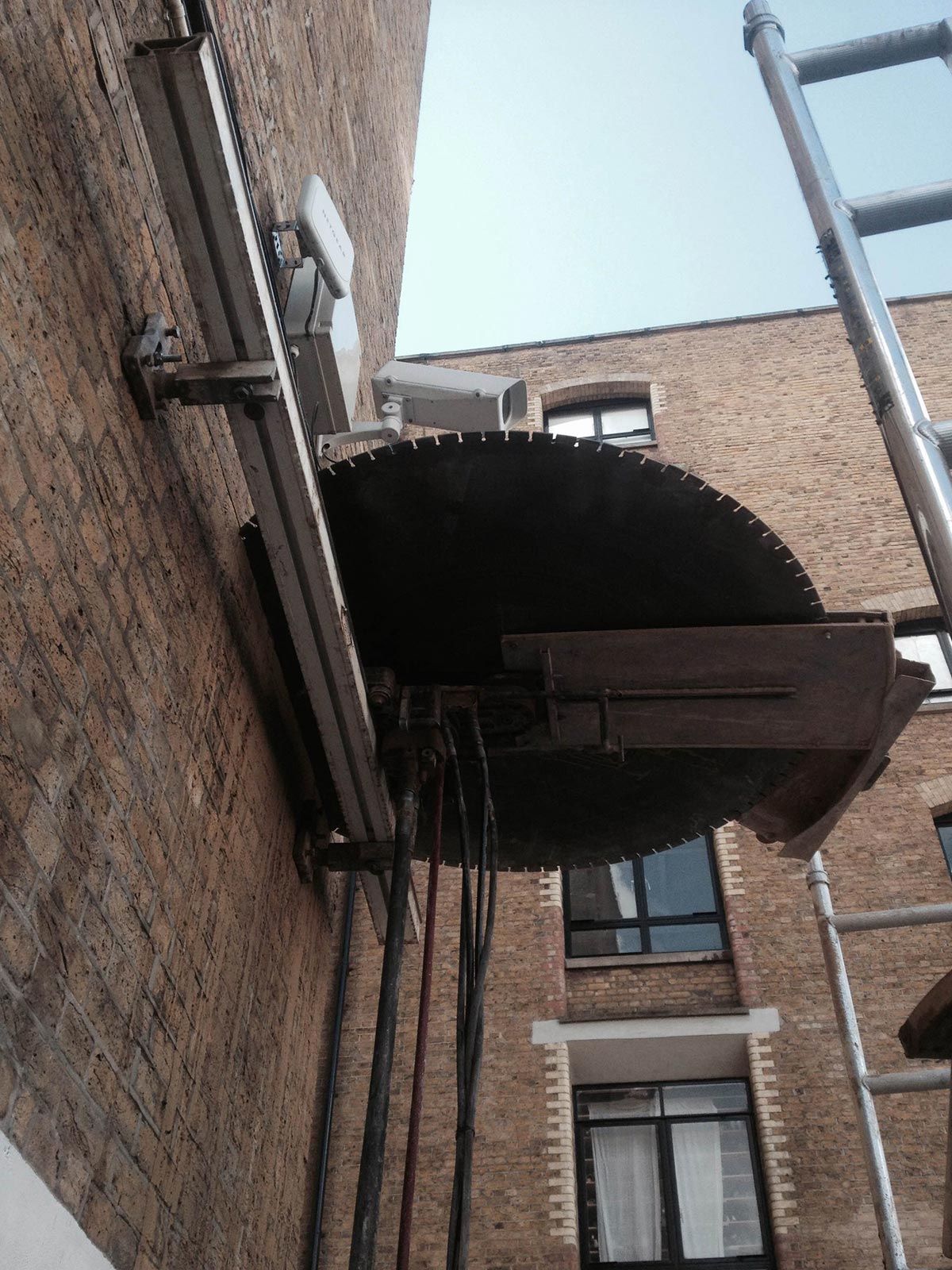 The Saw Blade mounted ready to receive the Blade Guard.
Heavy duty props
The heavy duty mechanical props were then installed as per the photos within the full height slot to support the building above. This sequence was repeated on the adjacent slot until the full width of the opening was fully supported.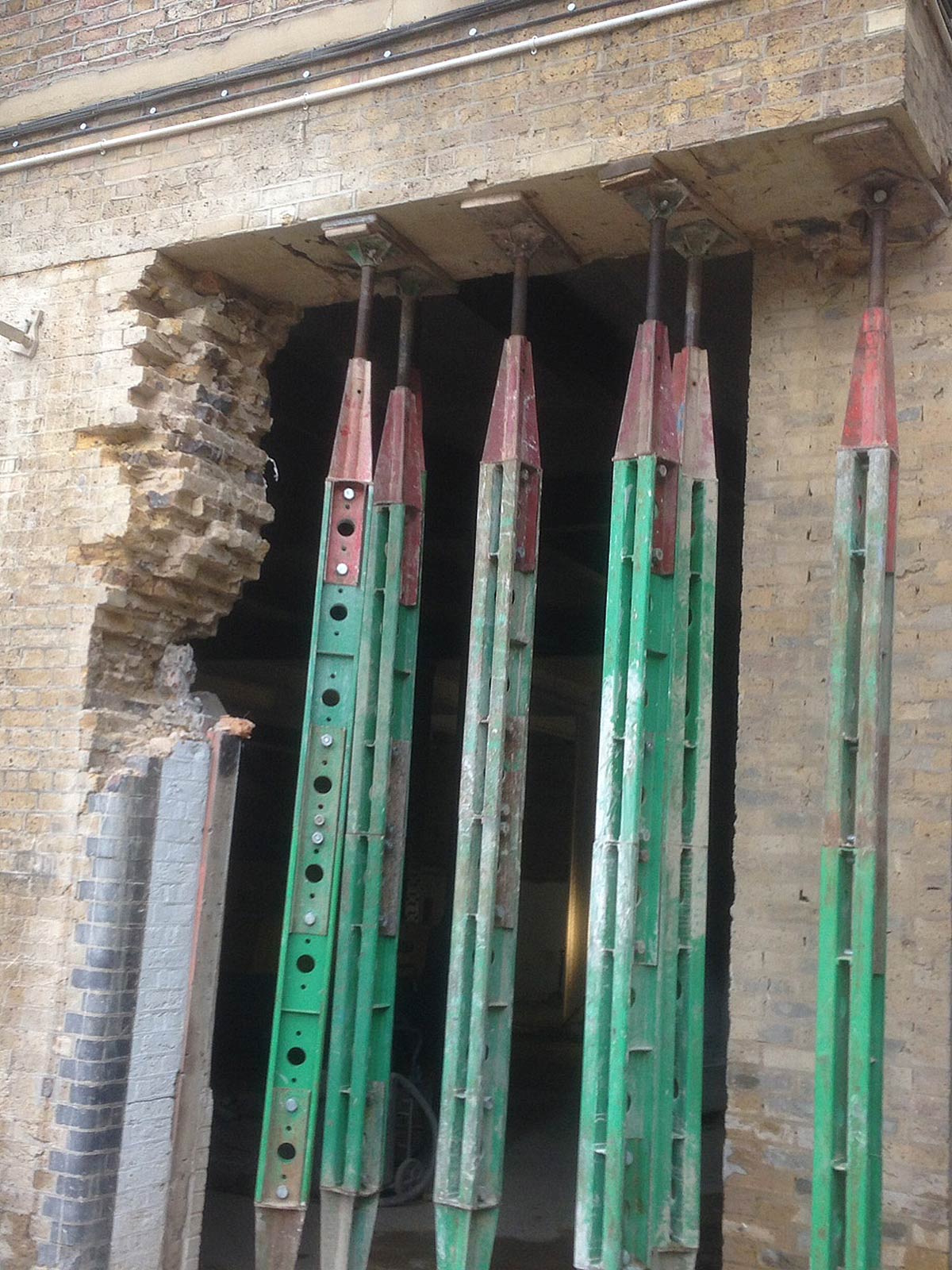 Heavy duty props installed within the opening being formed.
Concrete Bursting
Holes are drilled into the structure, and hydraulic pistons Inserted and expanded to form cracks to the exposed edges to minimise the use of percussive tools in reducing the wall to debris.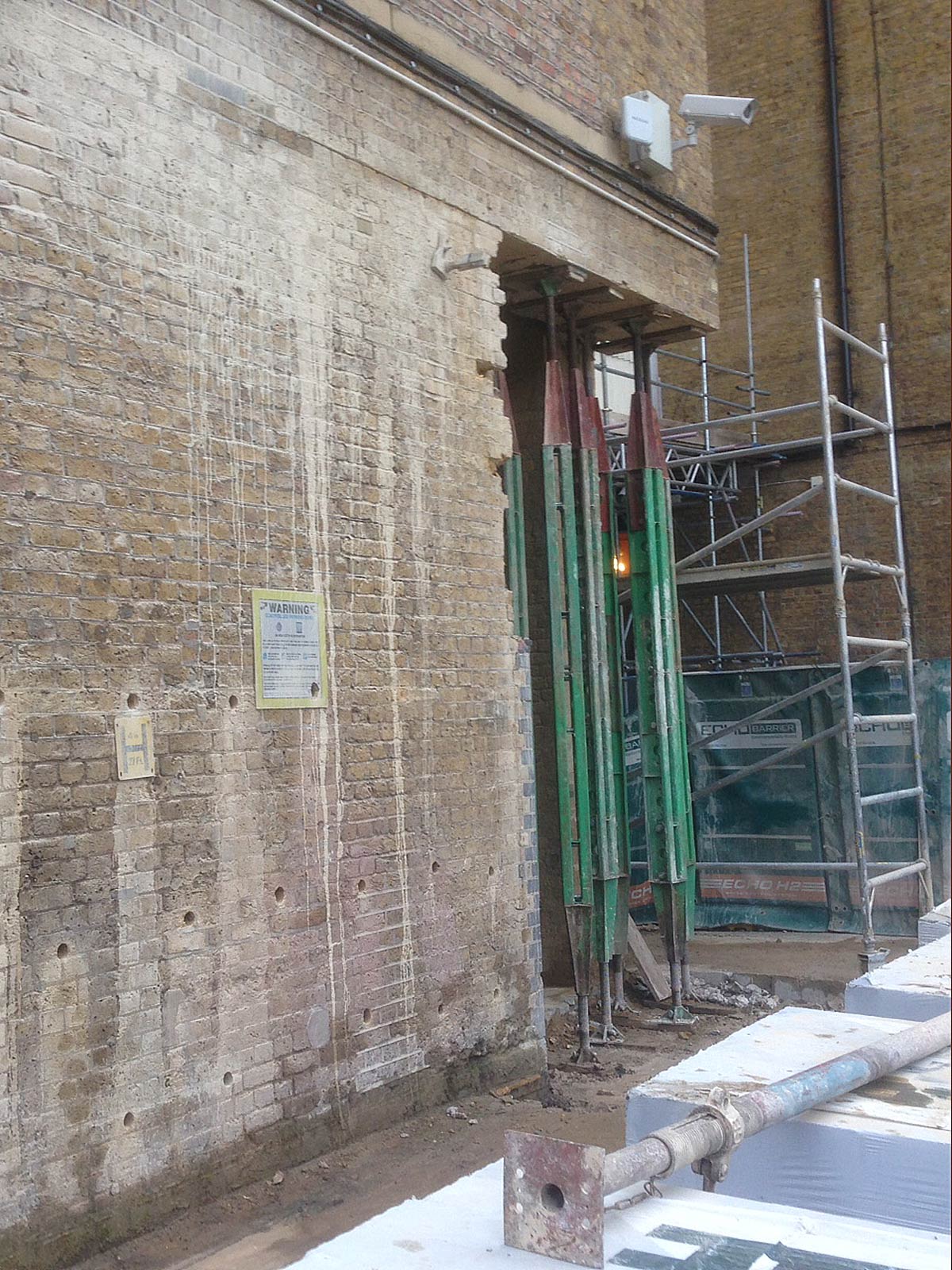 The corner of the building removed and showing the holes within the wall ready for bursting out the brickwork.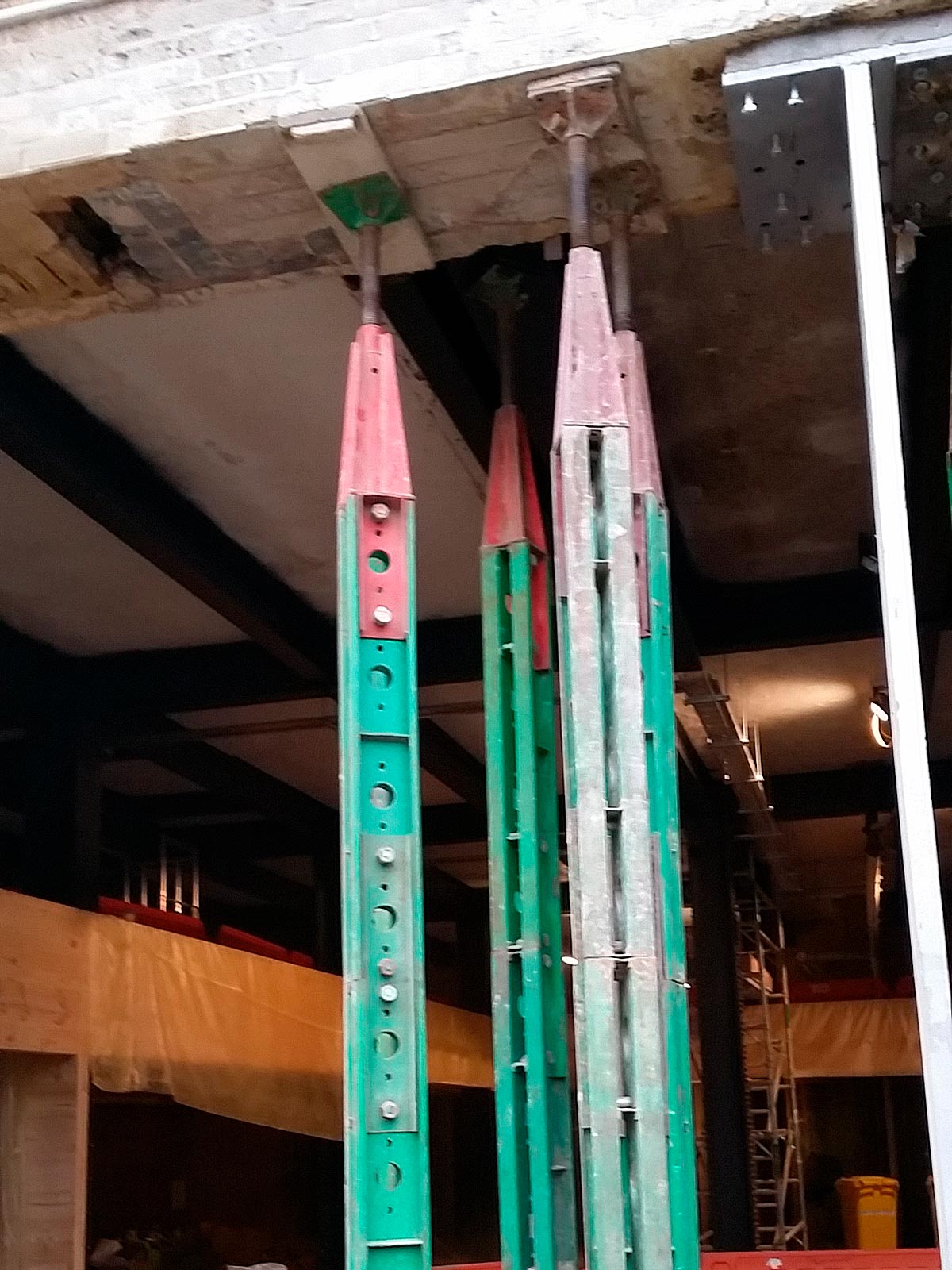 Heavy Duty Props supporting the opening and showing the new steel frame installed as work proceeds. Diacutt were employed to pack above the new steelwork using a non shrink specialist mortar.
Vertical Concrete Sawing
The final vertical cut provided a clean line to the full depth of the wall to establish the finished face of the opening.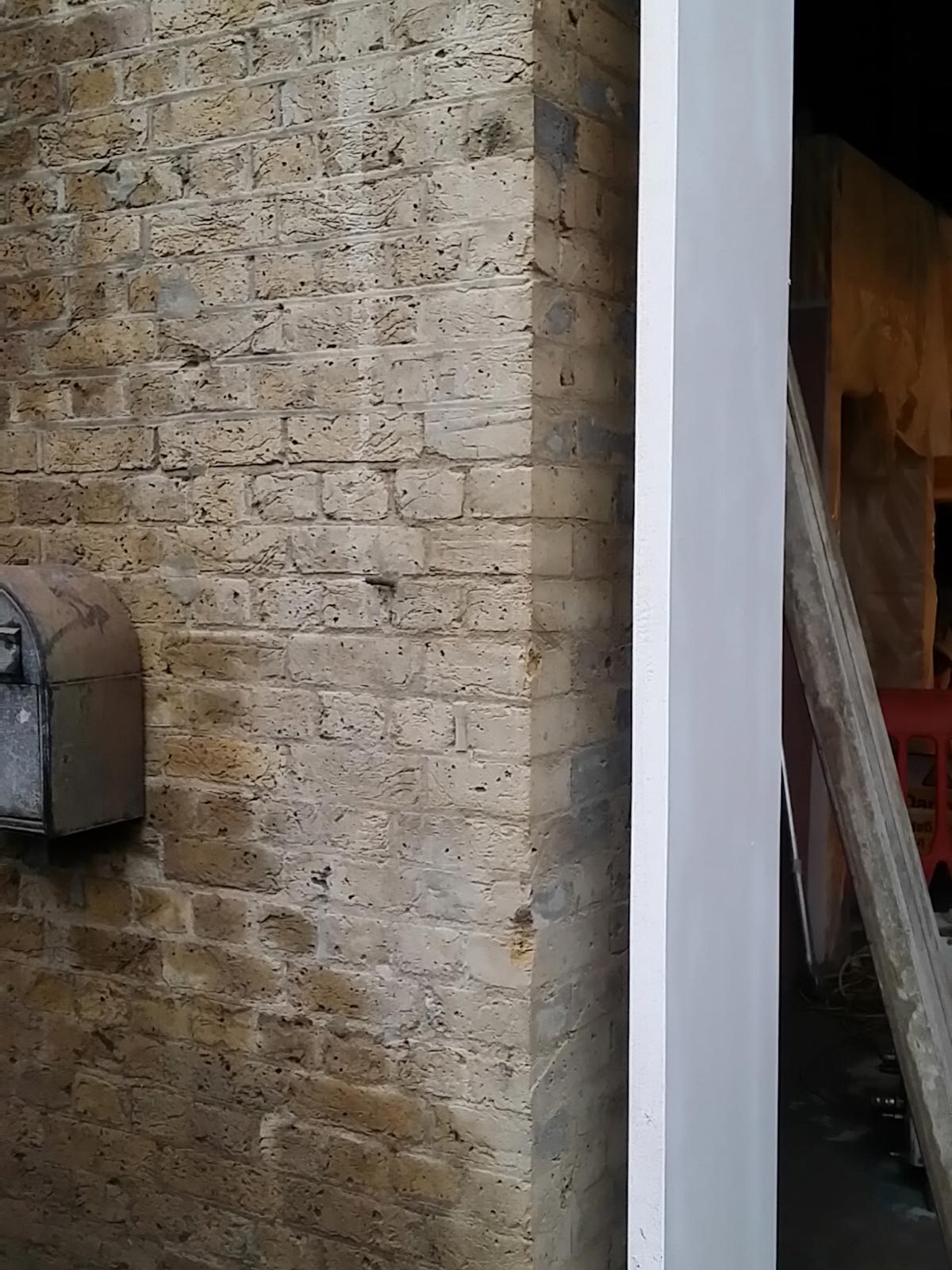 Vertical clean saw cut next to the new frame.
Heavy duty props
The main contractor then installed, in sections, the new supporting frame as shown.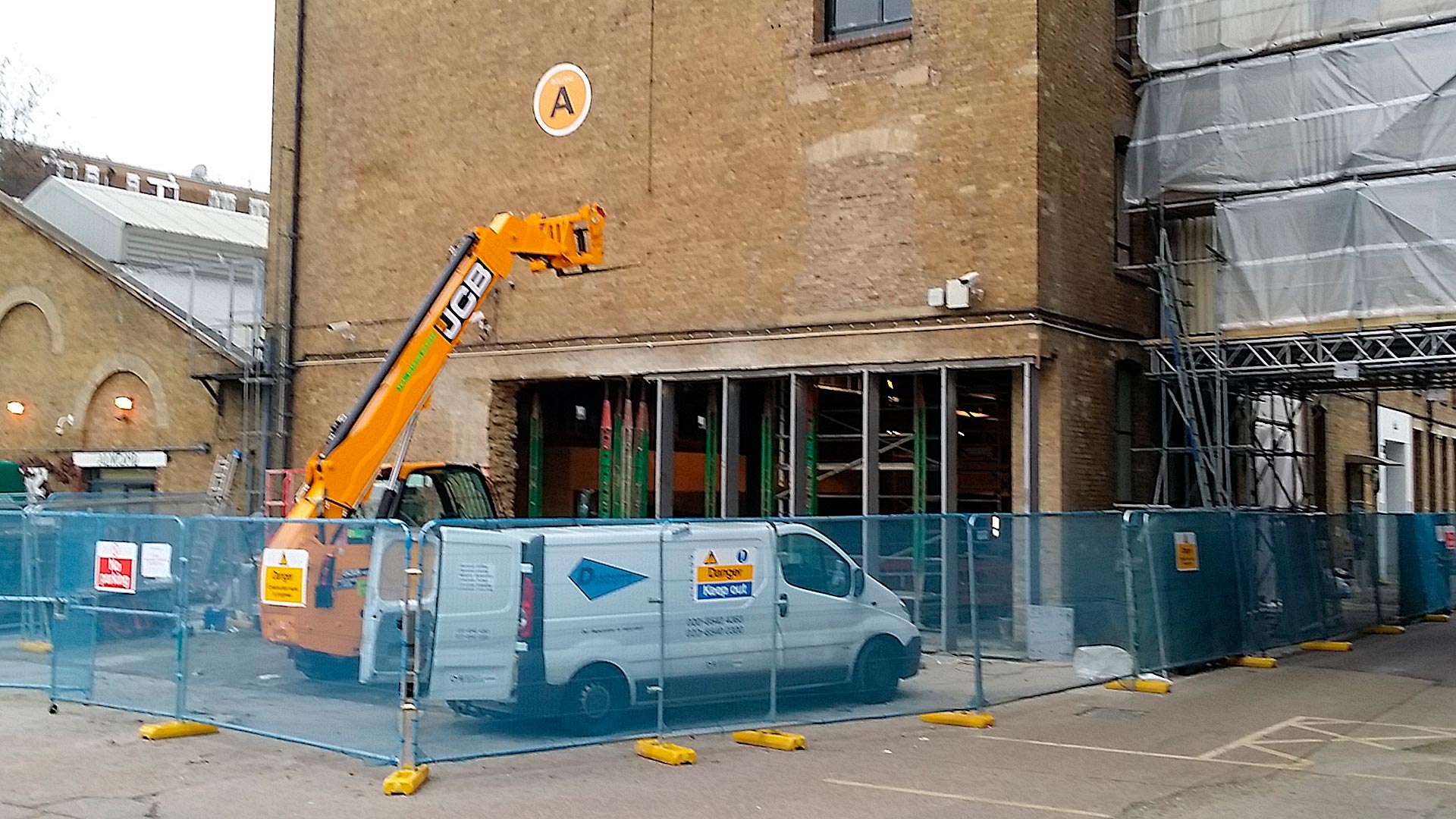 The opening formed with new steel frame being inserted.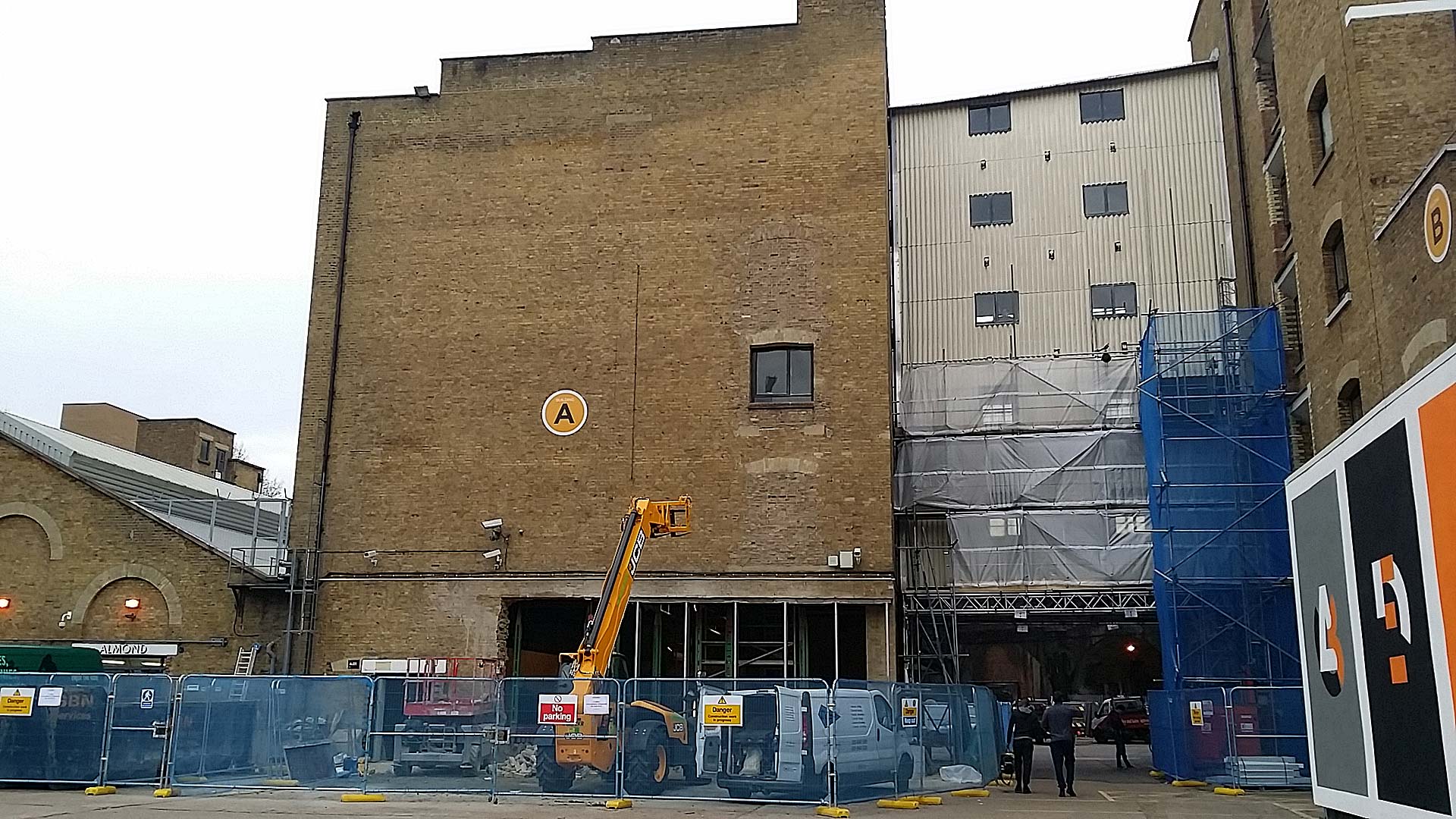 DIACUTT ACCREDITATIONS AND TRAINING